Due to partition problems, your system may not boot properly. So you may not see the welcome interface of Windows. Even if you boot your system from CD, you may find the hard disk unreadable. At this moment, many users do not know what to do. Some users would like to resize partitions. But your data would also be resized, that's to say all your data would be lost if any fatal error occur.

Are there any other ways to solve this problem? The answer is yes. You can try the following things.

After the partition table is destroyed, the system will warn you with "Non-System disk or disk error, replace disk and press a key to reboot" and "Error Loading Operating System "or "No ROM Basic, System Halted". So how could these things happen?

1. Computer virus.
2. Environment problems.
3. Improper operations.

So how do we recover partitions? There are several ways.

1. Clear the virus (sometimes anti-virus software will delete files from parts of system partitions. This will lead to permanent damage to your systems.

2. Recover partition with Fdisk command. Usually, this process is carried out by DOS commands. Thus, if you are not familiar with commands, you cannot recover partitions. Any improper operations could easily lead to data loss.

3. Recover partitions with 3rd party partition software. When deleting or creating partitions,

any incidents such as power failure, response failure would lead to the disk partition table unreadable by the current partition software.

MiniTool Partition Wizard is a different partition software with built in data protection that can fix partitions or disks.

First, select the damaged partitions and choose check file system by right click.




Then select Check & fix detected errors and click start to continue.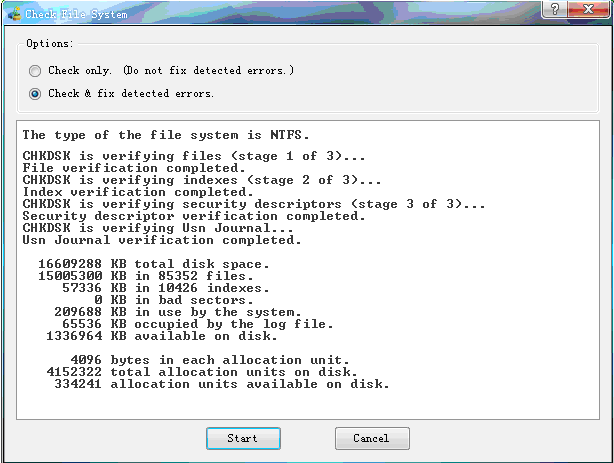 Everything would be corrected in minutes. You can fix your partitions easily and effectively.

As the leading partition manager, MiniTool Partition Wizard has many functions in partition management. With Partition Wizard, you can perform the following operations in seconds. Operations such as: Move/Resize Partition, Copy Partition, Create Partition, Delete Partition, Format Partition, Convert File System, Hide/Unhide Partition, Explore Partition, Partition Recovery, Convert Dynamic Disk to Basic Disk and much more. All these operation would be carried out under a protection mode, so you need never worry about data loss due to any reasons.

Some more advanced functions: rebuild MBR, convert DPT (disk partition table) format from MBR to GTP, and recover data, move/resize system partitions, convert file systems and much more.

Partition Wizard can support both MBR and GUID partition table format running on 32/64 bits Operating System including Windows XP, Vista, Windows Server 2000/2003/2008 and the latest Windows 7.

As a partition manager with such powerful functions and performances, MiniTool Partition Wizard is available for you on the website: http://www.partitionwizard.com/